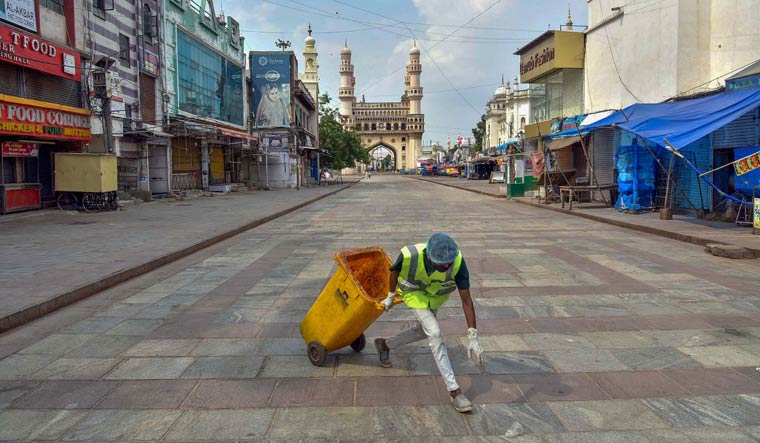 While I personally think lockdown is essential atleast until we drastically improve testing capacity to millions of tests a day, I can see that continuing to extend an absolute lockdown is getting increasingly politically untenable and taking a psychological toll on people (not to mention the obvious issues with the stranded migration problem, lack of paycheck, payment of rent issues, lack of food for daily wage workers and their families etc).
With that in mind, I have been thinking about how the government should open up the economy. However there are a few things I feel people should realize, that simply opening up the economy doesn't mean the economy will roar back to action. If customers are still unwilling to go out, shops and stores might actually end up in deeper losses by opening – since opening means they cannot furlough workers, they would have to invest in PPE and sanitizing etc which would mean an increased overhead above and beyond that when they would be shut.
With all this in mind, here are some suggestions I believe can be opened up and probably should.
Agriculture – Most of this industry can be localized – demand for food will continue even if there is a freeze in the economy because of its nature. This is also a field where social distancing is much easier to manage.
FMCG factories – same, demand for these products has only increased. They would also form the second chain to the agricultural sector.
Construction Work under NREGA in green zones – this will stimulate the economy and also fill the pockets of the daily wage workers so that they can purchase food and reduce the stress. Non essential construction – real estate for example shouldn't be clubbed into this. There will be no immediate demand for real estate in the next few months and most of these are in the cities anyway.
Logistics– truck drivers, highway dhabas might be reopened to allow supply lines to connect inter state. Railways should allow for the functioning of cargo trains. At the same time, they should facilitate state to state transfer, but not allow entry into cities, since it would risk contaminating these supply chain workers with infections.
City Transportation – allow people to use personal vehicles (cars and scooters and bicycles) as long as they do not disembark. Just ban public parking temporarily, for example.
Public Transport/Cabs – shouldn't ply because they are closed environments which could be hotbeds for transmission. Autos – govt should consider allowing autos to ply, but allow only 1 passenger in. Buses should ply at 1/8 capacity, one person per bench, leaving a gap between rows.
Markets – wholesale markets are one choke point that causes mass gatherings even with lockdowns in place. -One possibility is to introduce a token system – one seller get's entry to the market to sell their product only once a week, on a particular day. -Another thing that could be done is to set the market in much larger open areas. During this period of social distancing large fields or rural sports arenas are laying empty and could be used to establish markets instead of extremely cramped locations at the arteries. – if sellers could sell only once a week, this would be problematic for perishable goods like tomatoes, fish etc. One possibility is the govt can set up an escrow warehouse system at these wholesale markets – perishable goods can be held in escrow at 30% the value of the product and sold in the market by the sellers present, if the sales fall the sellers get at least 30%, if the sales mature the sellers can receive the escrow. -create shopkeeper ID, and only allow those with these IDs to the wholesale market, this will cut normal consumers who go to these markets to find a cheaper product when they could go to the nearby grocer.
Grocery Shops – These also have queuing issues. I'm personally confused over how to reduce this. One way could be that societies could pool together their needs and send a single representative to the grocer to pick up the products. I guess we would need community drive to organize that.
Payments – all these economic activities involve the transfer of money. I understand that for a lot of people, especially daily wage laborers who might not even have a phone or a bank account cash is the only option. But what about the rest? During the pandemic, digital payments like UPI, wallets etc should stop charging the sellers a service fee (or the govt should consider subsidizing 50% of the fees) that would encourage the transfer of money digitally and actively stop people from using cash. There is already a tremendous standstill in the economy and forcing people to transfer to digital payments would reduce the possibility of transmission by contact as well as cause minimal economic shock.
Service industries – they should work from home. It is absolutely a no brainer for me. If anyone's work can be done from home, they shouldn't be made to go out.
Education – i think these should remain shut for the foreseeable months. About entrance exams – if universities can't begin, there is no point holding the entrance exams which have gigantic extraneous transmission risks. For those in the final years of their universities – i think companies wouldn't be hiring anyway and if they do they would probably understand these circumstances and instead look at previous semester results for example, for a trendline.
What do you think?, leave your comments below;